DESCRIPTION

A two-in-one product. Working spray for support while styling, plus a final style-holding spray for a natural, comb-through hold.

Botanaplex™ HC*, an exclusive botanical complex formulated to strengthen, protect and revitalize hair. Panthenol, wheat proteins plus geranium, nettle and sage extracts, create a non-sticky, workable holding spray.
HOW TO USE

Spray on wet or dry hair. Hold bottle 4-6 inches from hair. Reapply as needed. After final styling, a light spray will hold style in place.
COMPANION PRODUCTS

3-in-1 Shampoo, Moisturizing Shampoo, Deep Cleansing Shampoo, Daily Conditioner, Intense Conditioner, Hair Spray Maximum Hold.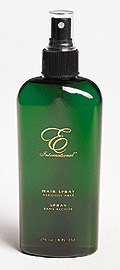 "You'll be able to comb through your hair... very natural styling."
"This is an excellent spray for "scrunch" styling... it won't leave your hair sticky or too stiff."
"My husband loves this spray... it's such a natural finish."