DESCRIPTION

Ideal as a daily shampoo for oily hair and as a weekly deep-cleansing treatment.

Contains Botanaplex™ HC*, an exclusive botanical complex formulated to strengthen, protect and revitalize hair. Peppermint, menthol and rosemary extracts combine with exceptional scientific cleansers to help remove build-up.
HOW TO USE

Apply to wet hair, lather and rinse thoroughly. Repeat if desired. Follow with Daily Conditioner or Intensive Conditioner
COMPANION PRODUCTS

Daily Conditioner, Hair Spray Alcohol Free or Hair Spray Maximum Hold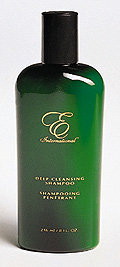 "You'll love this shampoo after exercising … refreshing, uplifting and super cleansing."
"Experience deep, thorough cleansing of hair and scalp."
"Leaves your hair shiny and your scalp clean."
"Experience energy with pure aromatherapy for your hair."