DESCRIPTION

A gentle vegetable oil bar cleanser that removes makeup, loosens and removes surface debris and leaves the skin cool and fresh.

The first step in your E International™ Skin Care System of Cleanse, Hydrate, Serum and Moisturize.

Botanaplex™ C, an exclusive botanical complex* for cleansing that promotes a clear, younger-looking complexion.

*Botanaplex™ C contains extracts of Oat Flour, Witch Hazel, Camellia Oliefera, Cucumber, Aloe, Althea.
HOW TO USE

Lather in hands or on facial brush. Apply to wet skin. Massage lightly in circular motions. Rinse thoroughly. Follow with Hydrating & Softening Toner.
ALTERNATE USE

Use as a body cleansing bar. Excellent bar for home hygienic use.
CONTRAINDICATIONS
COMPANION PRODUCTS

Foaming Cleanser, Hydrating & Softening Toner, Day or Night Serums, Day or Night Moisturizers.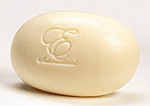 "You'll enjoy the convenience of your new vegetable bar cleanser...quick and easy to use. It contains ingredients known for their antibacterial properties."
"Your skin will feel clean, but not dry or pulled taut. Its a very gentle, thorough cleanser."
"The special Botanical Cleansing Complex leaves your family's skin clean and glowing."