DESCRIPTION

An E International™ exclusive serum that helps shield the skin from the negative effects of the environment while providing immediate, visible results in skin tone, texture, firmness and vitality with time-released delivery action.

The third step in your E International™ Skin Care System of Cleanse, Hydrate, Serum and Moisturizer.

Botanasome™ DS, an exclusive botanical-liposome complex*, helps to protect against free radicals with time-released action.

*Botanasome™ DS contains a combination of Ginkgo Biloba Extract, Ginseng Extract, Yeast Extract and Sodium Hyaluronate.
HOW TO USE

After cleansing and hydrating, smooth 1-2 pumps into the skin. Follow with Day Moisturizer..
ALTERNATE USE

Exceptional for maturing skin. Necessary protection for younger skin. Excellent on neck, décolleté, hands and arms. Quantum hydration for extra dry, maturing areas.
CONTRAINDICATIONS
COMPANION PRODUCTS

Day Moisturizers for Oily, Dry and Normal skin, Night Serum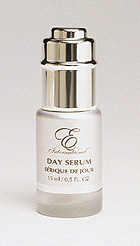 "This is your liquid surface supplement to protect and maintain the health of your skin…it's a must for your skin care system."
"Your skin will feel an immediate revitalization…firmer, livelier."
"The exclusive Botanasome™ DS is time-released, so you'll feel the effects all day."
"Superb daytime protection."