DESCRIPTION

An exceptionally light creme with micro-sponge action that helps to control oiliness and strengthen skin leaving it feeling clean, balanced and delicately hydrated.

The fourth step in your E International™ Skin Care System of Cleanse, Hydrate, Serum and Moisturize.

Botanasome™ O, an exclusive botanical-liposome complex*, combined with oil-balancing extracts creates a purified, clean environment for the skin.

*Botanasome™ O contains a combination of Lecithin and Vitamin E, plus Extracts of Cucumber, Ivy, Sage and Nettle
HOW TO USE

After cleansing, hydrating and serum, lightly massage into skin.
ALTERNATE USE

Excellent for teen and adult blemish-prone skin. Controls shiny foreheads and T-zones. Exceptional "nothing-on-the-skin" feel for men.
CONTRAINDICATIONS
COMPANION PRODUCTS

Bar Cleanser, Foaming Cleanser, Hydrating & Softening Toner for Oily skin, Day and Night Serums, Night Moisturizer for Oily skin, Purifying Masque.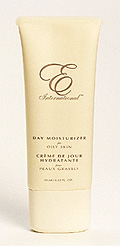 :"Your skin will feel hydrated, but not greasy."
"This is the best way to give your skin the water moisture it needs to stay balanced."
"Leaves a healthy, matte finish on your skin."
"Day-lite delight!"