DESCRIPTION

An E International™ exclusive serum that helps skin revitalize itself while diminishing the appearance of fine lines and wrinkles.

The third step in your E International™ Skin Care System of Cleanse, Hydrate, Serum and Moisturize.

Botanasome™ NS, an exclusive botanical-liposome complex*, combined with alpha- and beta-hydroxys plus intense skin supplements allow for gentle continuous exfoliation. Skin will begin appear softer, smoother and more radiant.

*Botanasome™ NS contains a combination of Lecithin, Ginseng Extract, Glycosaminoglycans, Lactic Acid, Sodium Hyaluronate, Ginkgo Biloba Extract, Ferulic Acid and Salicylic Acid.
HOW TO USE

After cleansing and hydrating, smooth 1-2 pumps into the skin. Follow with Day or Night Moisturizer.
ALTERNATE USE

Exceptional for maturing skin. Excellent on neck, décolleté, hands and arms. Helps to smooth laugh lines and vertical lip lines.
CONTRAINDICATIONS

Ultra sensitive skin may choose to use the Night Serum every other or every third night.
COMPANION PRODUCTS

Night Moisturizers for Oily, Dry and Normal Skin, Day Serum.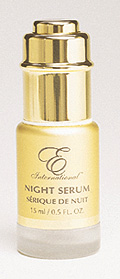 "This is your liquid surface supplement to help diminish fine lines and wrinkles."
"Use your Night Serum regularly to help keep your skin smooth and radiant."
"The Night Serum helps you experience improvement in the appearance of your skin."
"The exclusive Botanasome™ NS, with its time-release feature, keeps working all night."
"Smooth and reveal …"