DESCRIPTION

A gentle, soothing, cleansing milk that leaves the skin clean, moist and refreshed.

First step in your E International™ Skin Care System of Cleanse, Hydrate, Serum and Moisturize.

Botanasome™ C, an exclusive botanical-liposome complex*, plus extracts of cucumber and meadowsweet help to relax the skin while makeup and surface debris are gently dissolved.

*Botanasome™ C contains a combination of Lecithin, Extracts of Wheat Bran, Cucumber, Meadowsweet, Matricaria and Aloe.
HOW TO USE

Apply to wet skin. Massage in lightly with fingertips or facial brush. Rinse with warm water or use a damp cloth. Follow with Hydrating & Softening Toner.
ALTERNATE USE

For a special deep-cleansing treatment use as a pre-cleanser, followed by Foaming Cleanser. Excellent day and night cleansing for sensitive skin. Effective cleanser over skin sensitivities.
CONTRAINDICATIONS
COMPANION PRODUCTS

Bar Cleanser, Foaming Cleanser, Hydrating & Softening Toner, Day and Night Serums, Day and Night Moisturizers.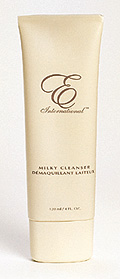 "At the end of the day you'll appreciate how quickly this removes your makeup… and leaves your skin clean and refreshed."
"The aloe and avocado are soothing to your skin, so you won't feel over-cleansed."
"A luxurious way to give your skin a morning wake-up."