DESCRIPTION

A quick absorbing creme that helps to balance uneven skin tones.

A Special Care product to enhance your 4-step "E" International™ Skin Care System of Cleanse, Hydrate, Serum and Moisturize.

Contains Botanasome™ L, an ex clusive botanical-liposome complex* with potent plant extracts that are known to balance the complexion and help brighten the skin.

*Botanasome™ L contains a combination of Lecithin, Extracts of Licorice Root, Rice Bran, Ginseng, Grape Leaf, Salicylic Acid and Lactic Acid.
HOW TO USE

After cleansing, hydrating and serum, apply to areas of concern. Follow with Day or Night Moisturizer on face and Hand Creme on hands and arms.
ALTERNATE USE

Excellent for hands, arms, neck and décolleté. Great men's product. Creates overall brightness.
CONTRAINDICATIONS
COMPANION PRODUCTS

Cleansers, Hydrators and Toners, Serum, Day and Night Moisturizers.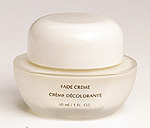 "Enjoy using the Fade Creme for your hands and arms."
"It's a necessary product for anyone who has been exposed to the sun."
"It will help to give your skin and overall brightening… beautiful and even."
"Reveal brightness!"