DESCRIPTION

A gentle, water-soluble scrub that smoothes and purifies the skin, leaving it fresh and radiant.

A Special Care product to enhance your 4-Step E International™ Skin Care System of Cleanse, Hydrate, Serum and Moisturize.

Botanasome™ FS, an exclusive botanical-liposome complex,* and gentle jojoba beads ( soft, rounded seeds from the jojoba plant) evenly exfoliate the skin.

* Botanasome™ FS contains a combination of Lecithin, Extracts of Ivy, Horse Chestnut and Arnica.
HOW TO USE

After cleansing, apply to areas to be smoothed. Gently massage over skin in small circles. Remove with warm water. Follow with Hydrating & Softening Toner. Facial Scrub may be combined with Foaming or Milky Cleansers to create a one-step smoothing cleanser.
ALTERNATE USE

Ideal to use before masquing. Excellent foot smoother. Great for hands, arms, neck, décolleté, elbows and knees.
CONTRAINDICATIONS

Excessively irritated skin.
COMPANION PRODUCTS

E International™ 4-Step Skin Care System.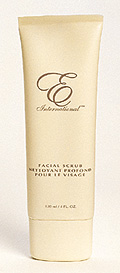 "You'll love the way the gentle jojoba beads roll over the skin to remove dead skin and refine the surface of your skin."
"Your new facial scrub will help your moisturizers and hydrators be even more effective."
"Your makeup will apply exceptionally evenly."
"Reveal radiance."