DESCRIPTION

A fast-acting, cool-feeling gel that works to eliminate blemishes caused by clogged pores.

A Special Care product to enhance your 4-Step E International™ Skin Care System of Cleanse, Hydrate, Serum and Moisturize.

Botanasome™ O, an exclusive botanical-liposome complex,* works to gently, but effectively, clear the skin.

*Botanasome™ O contains a combination of Lecithin and Vitamin E, plus Extracts of Rosemary, Ginseng, Arnica, St.John's Wort, Ivy and Cucumber.
HOW TO USE

Apply to blemish only. Reapply several times during the day if necessary. May be applied over makeup.
ALTERNATE USE

Excellent for its antiseptic and stabilizing affect on acne-prone skin. May be used as often as needed. Ideal overnight treatment.
CONTRAINDICATIONS
COMPANION PRODUCTS

E International™ 4-Step Skin Care System.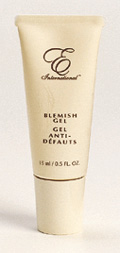 "Really works quickly to clear up blemishes…needs to be a part of everyone's skin care!"
"Keep it with you at work for emergencies."
"Superior product to help your teen through adolescent skin difficulties- gentle, but effective."
"Power correction!"