WaterGone™
Water Relief Formula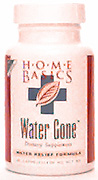 | | | |
| --- | --- | --- |
| | | |
| 3200 | 60 Capsules, 400 mg nt wt | $18.00 |
| | | |
WaterGone™ helps your body eliminate excess water. WaterGone™ is concentrated to be stronger that most ordinary herbal products. This product will help relieve your body of temporary water weight-gain, swelling, bloating and puffiness due to excess gluid retention.

Key Herbs
Uva Ursi strengthens the urinary system.

Juniper Berries nourish the pancreas and helps the body eliminate excess water.

Horsetail nourishes the bladder and kidneys.

Cornsilk has a cleansing effect on the urinary tract.

Parsley has mild properties which help the body eliminate escess water. It nutritionally supports the urinary system.

Queen-of-the-Meadow is a comprehensive herb which exerts a positive effect on all urinary tract disorders.

Goldenrod soothes irritations associated with the urinary system.

Cubeb is an aromatic, diuretic and expectorant.

Cranberries produce an environment in the bladder where pathogens cannot survive.

Watermelon seeds act as a gentle, safe diuretic.
Ingredients:
| Serving Size: | 2 Capsules | | |
| --- | --- | --- | --- |
| Amount Per Serving | | | % Daily Value |
| Proprietary Blend | | 800 mg | ‡ |
| Uva Ursi (Arctostaphylos uva-ursi (L.) Spreng.) (leaf) | | | |
| Juniper (Juniperus communis L.) (berries) | | | |
| Horsetail (Equisetum arvense L.) (stems) | | | |
| Corn (Zea mays L.) (silk) | | | |
| Parsley (Petroselinum crispum (Mill.) A W Hill) (leaves) | | | |
| Queen of the Meadow (Filipendula ulmaria (L.) Maxim) (herb) | | | |
| Golden Rod (Solidago virgaurea L.) (whole plant) | | | |
| Cubeb (Piper cubeba L.) (berries) | | | |
| Cranberris (Vaccinium macrocarpon L.) (fruit) | | | |
| Watermelon (Citrullus vulgaris Schrad.) (seeds) | | | |
| ‡ Daily Value not established. | | | |
Recommended Use: Take 2 to 3 capsules with meals, up to 12 capsules daily while symptoms perist
Warning: If you are pregnant or nursing, seek the advice of a heath care professional before using this or any medication. Keep out of the reach of children

Rev. Sep 24, 1999